When talking about the most beautiful Islands in the world, Mykonos in Greece comes in mind.
It is the most famous tourist attraction because of its exclusive beaches, resorts, peaceful atmosphere and best cruise trips.
You can enjoy the nights full of style, fun and glamour while enjoying the fantastic sight of crystal-like seawater.
Spending holidays here will let the visitors have peace of mind and pleasure in its real sense.
The hospitality of the Mykonos inhabitants, delicious taste of cuisine and fantastic sunset views add more to your charm.
You can make your summer holidays truly remarkable by choosing it as your destination to spend quality time with your friend and family.
The Mykonos culture is an amalgamation of simplicity and fascination. The history and traditions of the place are full of attraction to catch anyone's heart easily.
The visit to Mykonos in Greece will surely let you incredibly enjoy your holiday time.
Before planning your trip, you must consider the ultimate guide about that place so that you can organize everything accordingly.
We have come up with the best traveler guide for you.
Welcome to Mykonos in Greece
If you visited Greece and did not come to Mykonos town, you skip the most right place to explore.
Mykonos is known as Europe top-rated summer destination to enjoy and capture shots. You can say that Mykonos town is worth to visit.
From luxury hotels to restaurants, shopping, beaches, windmills, Little Venice, Mykonos sea bus, to museums and galleries, everything is worth seeing.
Love to have cocktails? Mykonos town nightlife is amazing where one can enjoy mouth-watering cocktails at the best bars.
There are a lot more chances of outdoor activities in Mykonos town as compared to other places.
The island of Mykonos in Greece is stunning with the amazing sights to visit and among the most magnificent tourist attraction place for people.
The city of Mykonos is full of history, Cycladic architecture and wonderful people that will inspire you!
Before heading to explore the fantastic sites of Mykonos Greece, read the article to get information about its famous towns, things one can do, how one can rent a car, places for rent and other things.
Greek island Mykonos
Greek is well known for its Islands, customs and beauty. Mykonos is one of the top Islands of this place, which is worth visiting to discover something unique.
According to the research, it is most frequently and primarily visited Island by foreigners. You can arrange the unforgettable trips to enjoy the nightlife full of parties, music and dance in calm water.
The summertime is perfect to come here because the weather becomes favorable for all.
People prefer this place because of its fantastic location from where they can enjoy the best sunsets and heart-touching the beauty of the Aegean Sea.
This place is full of the attractions, including the golden beaches, fine weather and clear water to make each moment of your trip exceptional.
Where is Mykonos?
Mykonos is the most important and famous Island in Greece. It is located amid Cyclades Island, which enjoys an excellent atmosphere.
The beautiful Aegean Sea surrounds it while the Island has Tinos, Syros, Paros and Naxos on its four sides.
It enjoys a unique attraction for tourist because of its beautiful and amazing locality.
The place has an evident touch of Greek tradition and customs where you can gather the most precious moments.
Among the many Islands of Aegean, it attracts a massive amount of tourists every year because of its favorable weather and cosmopolitan atmosphere.
You can go directly to the Mykonos as it has its Airport. It enjoys the best proximity to many essential Islands in which Delos, Tinos and Syros are the most prominent.
What is Mykonos known for?
If Mykonos is grabbing your attention even before you go there, it is because the place is full of unique elements to make it famous from ages.
Though almost everything about this Island is exceptional and contributes to make it the preferred visiting place in the world.
Some factors are more prominent, which take this Island to such appreciation.
The hospitality and friendly behavior of Mykonos people is very famous in the world where they welcome everyone to a mix-up with them in the rich culture of this place.
It is also well-known because of its elevated living spaces including Villas, hotels and other living places.
The sunset views and amazing nightlife is also something incredible about this place.
The sparkling sand of beaches and the best resorts of the world catch the attention of many famous personalities and celebrities to choose this place for holidays.
You can plan some of the excellent evening or late-night parties at Mykonos Cruises.
It is also known for its rich background history about Zeus and Titans, which will leave you with much amusement.
The two largest night clubs are also there to provide you with enormous fun.
What to do in Mykonos?
Mykonos is full of entertainment spots and activities which can make your time superb.
There are so many amazing things to do in Mykonos as it is the most famous tourist attraction in Greece.
While planning your trip, you must organize everything in the best way to save time. It is helpful to determine what you will do or where you will go to Mykonos.
If you love history and archaeology, you should start from visiting the Delos Island and Delos Archeological Museum where almost 3,500 years old tremendous historical pieces are worth watching.
The visit to Helvetica, which is also called little Venice alongside the water is best to enjoy the best cuisine with stunning sunset views with water sounds.
Various beaches with golden sand, exciting activities and sparkling water are there.
The most famous Mykonos beaches are Agios Sostis Beach, Elia Beach, Kalafatis Beach, and Kalo Livadi Beach.
You can go around the streets of the Mykonos to examine and enjoy the cultures, food and style of inhabitants.
Mykonos Windmills which present the beauty of seven windmills in a row with the dark blue water and elegant sky in a row is an incredible sight to people.
You can capture the best photographs here to make memories. Mykonos is also full of best-shopping destinations where variety is available to meet the needs of various people who come here.
You can explore the best Mykonos shopping malls for the whole day without getting bored. The Mykonos cruise trips are also an excellent option to add more to your holiday charms.
What are the best places to stay in Mykonos?
Are you visiting Mykonos, Greece for the very first time in your life and worries about the best places to stay in Mykonos?
We recommend you to book your hotels in these three towns: Ornos, Mykonos town, and Platis Gialos.
The best of all is the Mykonos town due to a variety of hotels, shopping areas, and restaurants.
If you desire to book a luxury hotel for your stay, then vote for Mykonos town.
However, if you are in love with beach hotels then moving to Ornas and Platis Gialos will be the best option.
Besides luxury and expensive hotels, one can find hotels at these places at a very reasonable price as well.
Now we would like to be more specific about the best places to stay in Mykonos like Branco Mykonos, Mykonos Blu, and Belvedere in Mykonos town to enjoy nearby food spots, beaches, and other stuff.
In Ornas, the best hotels are Santa Marina Resort & Villas, Kensho Ornos, Kivotos Luxury Boutique Hotel and more.
Now your biggest problem is solved, so select your stay spot according to your budget and choice.
Is Mykonos good for holidays?
The amazing and striking Mykonos Island is full of charms where you will fall in love with everything.
It is a place of dreams filled with the best options, culture, amusements and stunning atmosphere.
If you choose Mykonos to spend your holidays, then you will have the best time.
The place has so much to offer its visitors including the shinny beaches with crystal water, cruise trips, best cuisine, water sports, clubs, DJs and bars.
The day you spend here will be the best days of your life offering more than you expect.
Have fun all day enjoying the sunlight, sunset views and exciting nightlife. You can also explore the great history and customs of Mykonos.
To make your Mykonos Holidays more exclusive and memorable, some of the best deals and accommodations are available from which you can choose according to your requirements.
Holidays in Mykonos will prove the best choice for a holiday trip where you can discover.
How to move around in Mykonos?
The main problem when someone is visiting another country is to find routes and transport to visit places.
Renting a car in Mykonos is not a trouble, and it is necessary to explore the majestic sites of this beautiful island because buses are not available at every place.
When the tourist season is on the peak, it is smart to book your vehicle earlier the day you want to visit places.
While booking your car, the first step is to research thoroughly about different companies to get the best quote.
You can find international as well as local companies for renting a car in Mykonos.
Exploring the city in a car is easy as compared to using the bus, so we recommend renting a car.
Price could differ from the type to the distance you travelled.
However, if you are not familiar with the routes then do not consider buses as your first choice.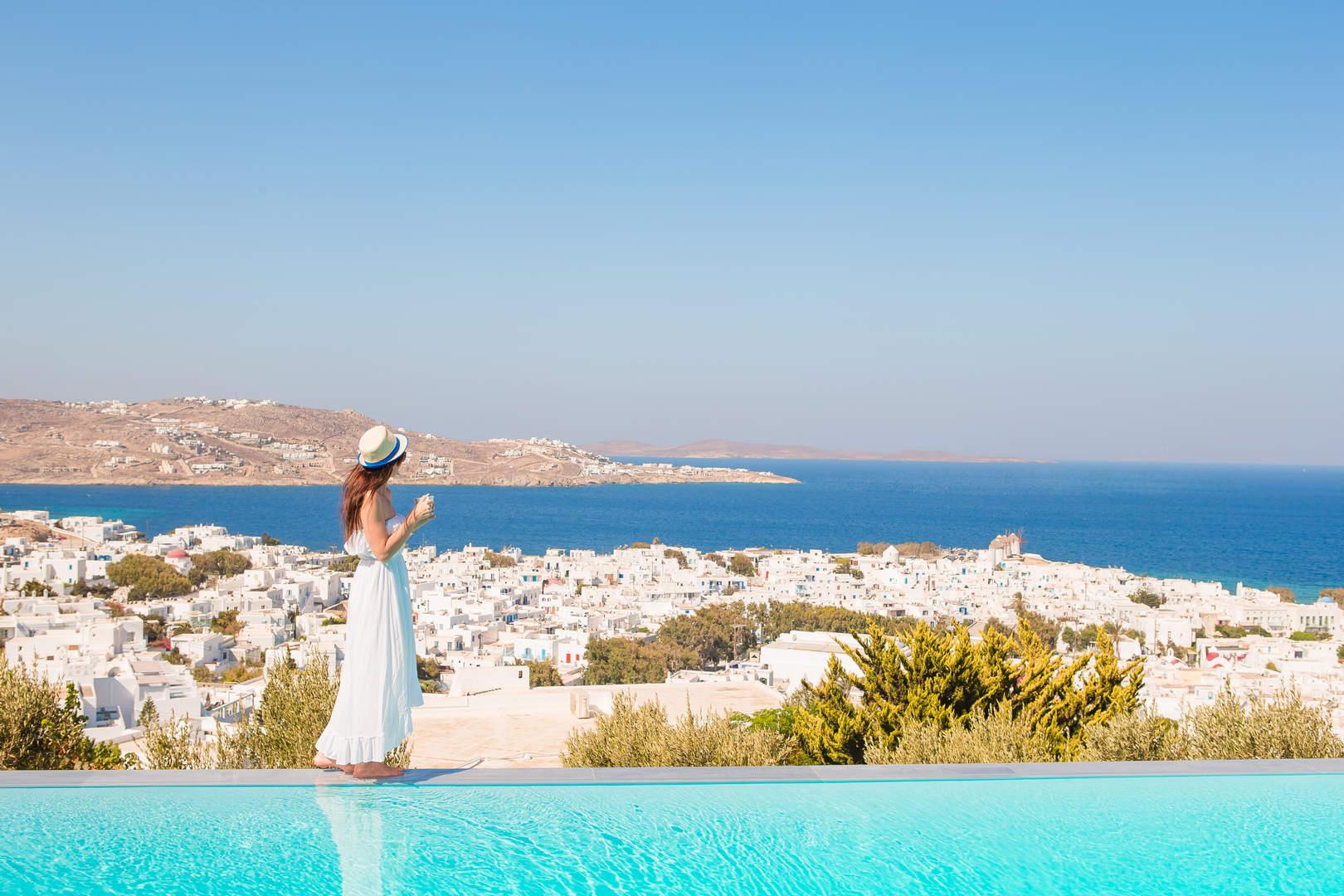 Things to do in Mykonos
To make your travel a fun experience, one should know about Mykonos things to do. The best thing to experience and explore is the historical places of Mykonos. Hold your camera to capture ancient heritage.
Visit Gyzi castle to see the structures that survived after wars.
Is architecture models always grab your attention?
Visit MONASTERY OF PANAGIA TOURLIANI due to its impressive architecture work. Not just exterior but the interior is also a piece of art.
However, please call before visiting MONASTERY OF PANAGIA TOURLIANI because the inside visit is allowed when you have a reservation with permission.
Church of Panagia Paraportiani is one of the sacred places to visit in Mykonos, Greece.
It is called the home of 35 churches and the best place to connect with God.
Swimming is another thing to do, but which is the best beach to visit.
Take some time to relax in the water at Elia Beach Mykonos.
This beach is perfect if you like to take part in other water games and activities.
Mykonos market
The visit to Mykonos markets will be a source of much delight and enjoyment.
The commercial areas, streets and roadside markets consistently catch the attraction of visitors to try different foods in different tastes.
Almost everywhere, you will find the best options to suit your appetite, needs and flavor.
The markets are vibrant with various shops, food points and restaurants where people come and go till midnight, especially in summer.
Marietta's Market, Matogianni Street, Pantopoleion and Flora supermarkets are among the most famous Mykonos markets.
The tourists or visitors will not find the shortage of anything in these markets, and they will find almost all they need.
The shopping markets in Mykonos also provide you with the best shopping experience.
Mykonos villages
No doubt that Mykonos has a very bright side of nightlife and parties, but there is another side of the picture too which you need to look at.
The best way to see the other part is to go to the Mykonos villages and examine how people live there.
It will leave you with much relaxation and contentment as the town life of Mykonos is full of peace and attraction.
When you come out of the parties and step into the towns, you will be confronted with the actual Greek village life.
The scenic views, strong winds and natural atmosphere of these places will let you have a great tourism experience.
Some famous villages in Mykonos are Chora or Mykonos Town, Drafaki, Glastros, Ano Mera, Ornos and Tourlos.
You can have the traditional cuisine here to taste the actual taste of Greek food.
You will find the true peace of mind after visiting these small villages.
The beaches, holly vessels, nature, and so much more is here which you can enjoy and capture.
The parties, beach and clubs are not all to visit, but these villages are also worth exploring.
Mykonos nature
Like many other things, Mykonos is famous for its panoramic natural views.
It is among the most famous and beautiful Greece islands where you will find the best contrast between modern and natural lifestyle.
This amalgamation makes it an attractive place to enjoy your holidays to see all in one place.
The tourists cannot leave without appreciating the breathtaking Mykonos nature if they explore it in the right way.
As this Island is surrounded by the Aegean sea, which is famous for its crystal-like attributes, you can encounter the stunning sea sights from various spots during your stay.
There is also an option to hire a cruise to get excellent interaction with the sea.
The place is also famous for dramatic sunset views which can be left you with much amusement.
You can visit the beaches, villages and other wild sides of the Mykonos to interact with the nature of this Island.
Mykonos little Venice
How it possible that you visited Mykonos Greece but did not come to the most romantic city "Mykonos Venice."
A stunning view of the water with high sitting areas and a back view of windmills add up to its beauty.
Without seeing the sun setting view and drinking a hot cup of tea your trip to Mykonos little Venice will be incomplete.
Houses are built with the lining of the water for the direct connection with the water for shipping purposes.
Not just homes, but also the restaurants are set up at the corner of the sea and opens up throughout the day and in the night to serve fresh, hot food.
The area gets overcrowded in the evening, so it is better to make your reservations first.
Mykonos Windmill
Mykonos windmill is a place, which will steal your heart in first sight. Mykonos windmills are a real example of architecture work.
Sunset is the most attractive sight that happens in the Mykonos windmills that tourists lined up to have a glance.
If you have some interest in photography, then Mykonos windmills are the best place to capture moments for sure.
The best time to capture a photo is to visit early in the morning when the sun is rising because you encounter with less crowd.
Various windmills are now in authority of locals now to use for the harbor purpose; however, few of them are converted into museums as well.
If you get a chance to visit someplace, go to Mykonos, Greece, a city of love, heritage, and history.