Are you planning a trip to this island and wonder what the best way of getting around is? Mykonos taxi might be a suitable choice if you don't want to drive. This could also be a good option if you plan to go out and party all night. In this short guide, we'll try to explain everything about this service – how to get it, how much it costs, and more.
How to Get Around the Island? Mykonos Taxi Service Is One of the Better Options Available
One of the first things you need to consider if you plan to visit this place is that it is one of the smallest Cycladic islands, which makes the task of getting around much easier. The best part is that you can choose from various options when it comes to transportation.
If you travel by plane, you probably don't have a car waiting for you (unless you rented a vehicle in advance). The other option is to travel here by ferry and transport your own vehicle, but this might be more expensive than renting a vehicle, especially if you plan to stay for a short period. In general, you can choose from a few convenient transportation options:
Taxis,
Buses,
Scooters,
Cars,
Bikes.
Are Taxis in Mykonos Expensive? Maybe, But if You Share a Ride, It's More Comfortable Than Squeezing in a Bus
Obviously, one of the most convenient solutions for getting around is taxis because, in most other scenarios, you would have to be the driver. A bus is another suitable choice, especially if you consider the fact that this is more affordable than a taxi.
However, we all know that buses are not the most pleasant places to be in on a hot summer day. Since you're probably traveling with friends, sharing your cab ride might be an ideal solution to cut costs, especially for longer rides.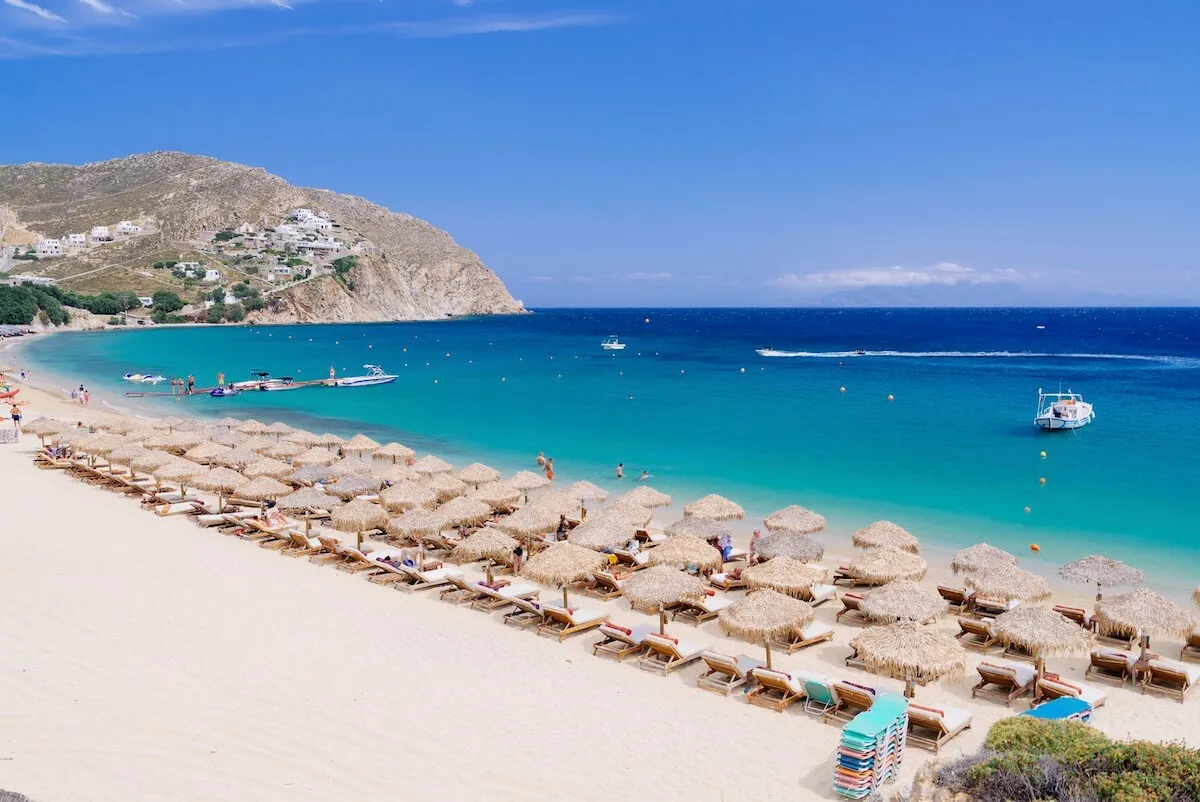 How to Get a Taxi in Mykonos?
The biggest issue with Mykonos taxi service is that they don't have enough vehicles to cover the needs of such a high number of tourists. This is why sometimes it is difficult to get this service during the busy summer season, although many tourists tend to use other transportation methods. However, if you still choose to try your luck, there are three ways you can get yourself a ride:
Walk to the taxi station and check if there are any vehicles available. This might be convenient because you can tell the driver where you would like to go, and they can tell you the approximate price for your ride.
The second option is to call the taxi service. It might be good to get the number at your hotel just to ensure you have the right one.
The third option is to stop a vehicle on the street. If you are heading somewhere and following some of the main roads, you can try to wave to taxis that are passing by. If they are available, they'll stop to pick you up, and that's it, you got your transfer.
Where Is a Taxi Stand in Mykonos Town?
The main station is located in Mykonos Town – at the north entrance, behind the Cosmote building. There is another stand close to the southern bus station, but the chances are higher you'll catch a ride at the first one. If you choose to wait at a station, be patient because this can sometimes last more than 30 minutes, especially in the evening during the summer season.
Once you enter the vehicle, you'll see a notice board that shows prices to main destinations (Greek policy), but they also count meters during the ride, so be prepared that the final price can vary a few dollars (euros) up or down, depending on some other factors like traffic jams.
You Should Book a Ride to the Airport in Advance
One of the most recommended things to do if you want to ensure that you get a ride to the airport in time is to book it in advance. You can do this online in a few simple steps, but you should do it at least 24 hours in advance.
Just type in the requested details, like the address of your Mykonos villa, and wait for an email confirmation, and that's it. They will offer you a door-to-door service, so you don't need to worry about handling bulky luggage on your own around the streets while desperately trying to catch an available vehicle. This list shows approximate prices for airport transfers to different parts of the island:
Airport to Mykonos Town (Chora) – $17 (€15) – 2.17 miles (3.5 km)
Airport to Agios Ioannis – $23.7 (€21) – 5 miles (8km)
Airport to Paradise – $19.2 (€17) – 3 miles (3.7km)
Airport to Agios Stefanos – $23.7(€21) – 3.72 miles (6km)
Now That You Know How to Get Around the Island With Taxis, You Can Comfortably Plan Your Stay in Greece
If you don't feel like driving a taxi in Mykonos will suit you because you frequently want to change locations and explore the island without any transportation issues, renting a car might be a good option. This will help you drive around and explore some top attractions such as:
For the best experience, you might as well consider renting some of the luxury Mykonos villas for the entire family, or you can even go one step further and rent a modern yacht with a crew and have a memorable vacation. Whatever you opt for, contact us, and we will help you make it happen, we have some of the finest private villas in Mykonos and can help you plan an unforgettable vacation.