One of the Cycladic islands, Mykonos, is known all over the world for its extravagant nightlife and gorgeous beaches. If you plan on visiting this heavenly place in Greece, be sure to ask the question – when does Mykonos season start? What is the best time to come here? We've made a short guide on the tourist season to help you decide when is the right time for you to travel to Greece.
Wondering When Does Mykonos Season Start? Let's Find Out
Warm weather on Greek islands, including this one, usually starts in April, just around Orthodox Easter – that's when the tourist season begins. Thousands of visitors flock to the island during summer, and there are tourists here until the end of October. That's when the winter starts, and you can rarely see anyone except locals in Chora, the principal town. If you're wondering which summer month is perfect for your trip, you should know that this depends on your preferences – what do you want to see and do while here?
Why Travel to Mykonos, Greece?
Everybody knows that the best reason to come here is partying – if you want to have a good time, this is the best place for you. Still, that's not all Mykonos island is about – you can also visit if you want to have a slow vacation and relax in one of the beautiful Mykonos luxury villas. Every single beach is breathtaking, with golden sand and beautiful waves of the Aegean Sea – who wouldn't want to travel here? All you have to do is figure out when to come and book a Mykonos villa for a holiday.
What Is the Best Time to Visit Mykonos if You Want to Party?
Party enthusiasts flood the island during July and August – that's when there are the most parties and world-class DJs. Things start heating up at the end of June, and the party mania lasts until the early days of September. The weather is hot, and hotels are full until the end of August when the crowds start splitting up. We should add to this travel guide that, during the peak of summer, prices are higher than at the beginning and end of summer.
Mykonos Has the Best Nightlife in the World
If we were to give the whole party guide for the island, that would take ages – you've probably heard that there are countless fantastic clubs in Chora, and beach clubs are another thing that Mykonos is famous for – everybody knows about Lindsay Lohan Beach Club, for example.
This is an island that never sleeps, and no matter when you come to the party, you won't leave until the morning – that's just how Mykonos nightlife works. Even if you come here for 5 days, you will never forget the experience and will visit again.
When Is the Best Weather for a Relaxing Summer Vacation in Mykonos?
When is the time to go to Greece for recreation? If you want to skip the parties and just relax on a sandy, hot beach, be sure to visit in May or June (preferably the beginning of June). Late September is also great for exploring Mykonos beaches because it's still warm enough to swim and sunbathe, but there are no more parties, which means fewer crowds and lower prices.
What Can You See During Your Trip?
Although beaches are amazing, there are many other amenities to check out on your trip. After enjoying a day on the beach, be sure to spend some time in town and explore it – the streets are beautiful, and the Cycladic architecture is something you must see. Chora has a lot of interesting places to visit, the most popular being Little Venice, five windmills on the coast of the town, Armenistis Lighthouse, and Panagia Paraportiani church.
There are also many top-rated restaurants in Chora where you can relax after your walk or a shopping spree in town. Another thing you shouldn't miss is Delos, a small nearby islet with important archeological sites open for tourists – come and see a part of Greek history. It would be a shame to miss this when you're already in Greece.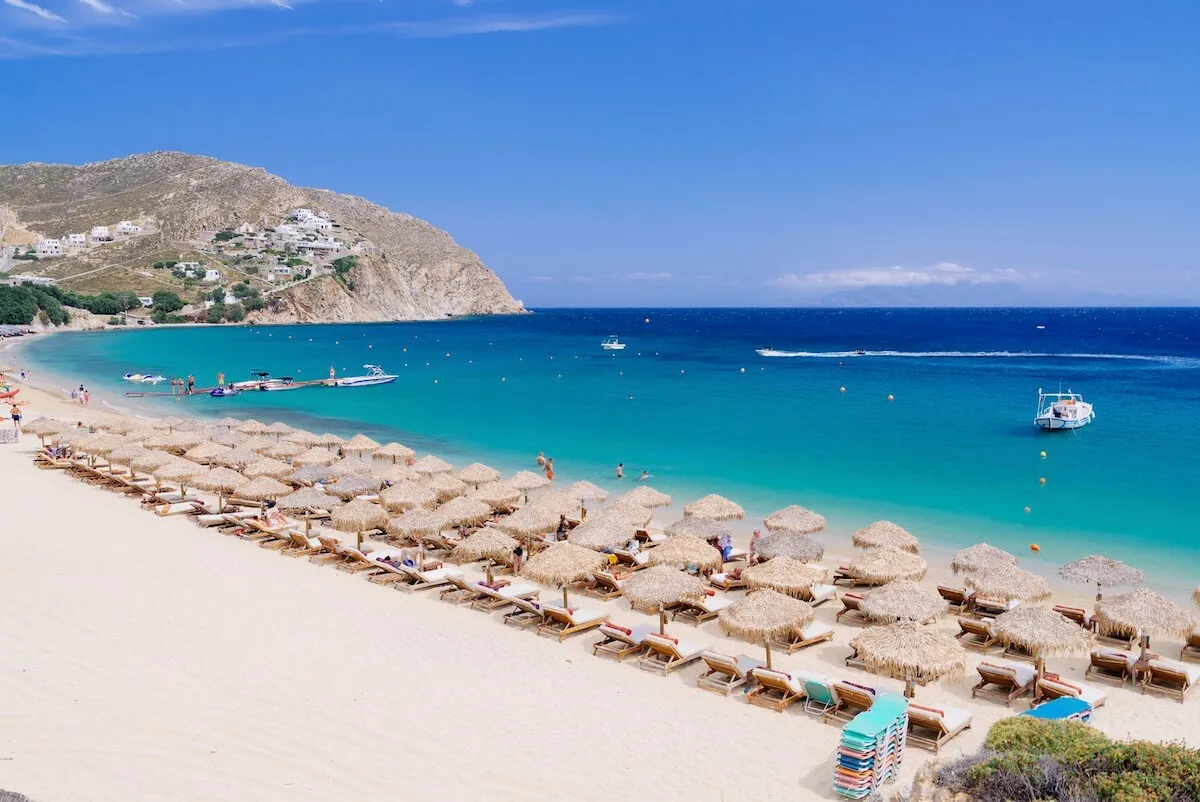 When to Travel to Mykonos for Greek Island Hopping?
Greek island hopping is a popular tourist attraction for those who don't want to limit themselves to only one place during their vacation – why not set aside a few days and explore the neighboring islands as well? People usually check out Paros, Naxos, and Santorini, just a few hours away by ferry. The ideal periods for this are May, June, September, and October – warm weather, but not too hot.
Not only will you see more beautiful places, but you'll also get to experience the beauty of ferry rides in Greece – there's nothing like the strong wind and seagulls flying over turquoise waters. There are daily rides to these Greek islands, except in winter, of course. Santorini is a great travel destination even in November.
Whenever You Come Here, Be Sure to Book the Best Accommodation Available
With perfect weather and gorgeous beaches, all you need is one of those comfortable, fancy Mykonos villas to make your vacation a complete experience. Find one of the private villas in Mykonos close to the town, and rent a car so you can see other parts of the island – getting around the place is easy with a car. If you want to spice up the vacation more, maybe you should consider a yacht rental service. We can help with all of that – organizing accommodation and transportation on Mykonos is our specialty. Reach out to us, and you will have an excellent trip – that's a guarantee.