This beautiful Greek island might be the most energetic out of them all, but it's also packed with interesting cafes that blend the traditional look of Greece with a modern style. If you're on the hunt for the best coffee Mykonos has to offer, and you plan on hitting some instagrammable spots on the way, here are a few cafes you certainly don't want to miss.
The Exciting Nightlife Will Surely Leave You on the Lookout for the Perfect Roastery
From amazing beaches to beautiful hotels and private villas in Mykonos, if you travel to this place, you will definitely experience a lot. It's known as a party island, and you will quickly realize why – the party here just does not stop, no matter if you're having the time of your life on a Mykonos yacht rental or enjoying a cocktail in one of the impressive beach clubs.
The exciting nightlife is all the more reason to find that perfect spot you can use to take a break from it all and drink some of the best coffee in Mykonos while catching a glimpse of the never-ending sea. So, let's take a look at a few of these wonderful places that can do just that, all while getting the chance to refresh your Instagram profile.
#1 Ntoukas Kitchen Lab – Start Your Day Right With Some Breakfast and Espresso
No matter how many days you're staying on this island, finding a perfect spot to enjoy your morning espresso is as important as checking out the best restaurants and hotels this place has to offer. So, why not do both at the same time? The Ntoukas Kitchen Lab can be an amazing way to start your day with some delicious food and an iced americano before hitting Matoyianni street to search for the places you want to visit.
You Can Enjoy the Breathtaking Views and Try Some of the Best Coffee Mykonos Town Has to Offer
The Ntoukas Kitchen Lab is definitely a hidden gem, and most people simply stumble upon it while walking around the town. A nice meal is not the only thing you will get out of it because this cafe-restaurant is also a beautiful place that perfectly matches its surrounding cobbled streets and traditional architecture. With that kind of background, all of your friends on Instagram won't question where you are, even if you forget to add the location.
#2 Cosmo Breakfast Cafe – Here You Can Have a More Traditional Start to Your Day
The best way to discover the authentic side of this island is to start your day with a traditional Greek breakfast experience, and the Cosmo Breakfast Cafe is the perfect place for that. You will be able to try delicious Greek dishes, refresh with some Greek coffee, and enjoy not only picturesque views of Acioti street but also a warm, friendly atmosphere that will give you a glimpse into the community of this small island.
The Tastes and Smells of Authentic Greece Fill up the Comfortable Atmosphere of This Cafe
At the Cosmo Breakfast Cafe, you can enjoy a varied menu that includes pastries, omelets, crepes, cereals, cookies, juices, yogurt, and coffee, all while gazing at the harbor and, of course, taking a few pictures. Maybe you'll even get the chance to talk to some friendly locals and ask them to recommend some fun things to do while you're here.
#3 Vegera – One of Those Perfect Waterfront Cafes You Won't Mind Staying in for Hours
Have you forgotten to eat breakfast at your Mykonos villa rental before heading to the town? No worries, there is a perfect brunch spot on the coast of Kampani called Vegera, which will serve you not only good food but also a perfect cup of espresso. With its open-concept structure and extensive view of the sea, this is one of those perfect restaurants to update your Instagram account with, no matter if you like to post pictures of the horizon or your plate.
Keep in Mind That This Cafe Has Different Open Hours During the Winter Months
If you're wondering when to visit the island, the obvious answer is during the summer because that's when the season starts. But, if you, for some reason, find yourself here in winter, keep in mind that Vegera closes its restaurant and keeps the bar open only on the weekend. So, if you're up for a glass of wine or two, here's when to visit during the winter months:
Friday from 21:00,
Saturday from 21:00,
Sunday from 18:00.
View this post on Instagram
#4 Madoupas – A Chance to Enjoy Lunch and Some of the Best Coffee Mykonos Has to Offer
Also situated facing the old port, Madoupas has been serving great specialties and beverages since 1957, so it's a great way to soak up the local atmosphere. You will get a chance to enjoy the views while also getting a glimpse into the history of this island because the walls are covered with lots of black and white photographs of this place. This beautiful place will surely refresh your profile, and it's close to other famous Instagram spots that will do the same.
Like the Iced Freddo? Share It With Your Friends, and Don't Forget to Add #Greece
Madoupas is the perfect place to try out one of the most popular drinks in Greece, the freddo espresso or cappuccino. Ideal for brunch, this is an iced beverage made from espresso and frothed milk, and it's a great help in escaping the summer heat, besides, of course, heading to the beach or your Mykonos villa with a private pool.
#5 Odos Araxame – There Are Few Coffee Roasters This Good Outside the Main Town
If you're up for a bit of a travel adventure with car hire, this island is yours to explore. So, head out to the picturesque village of Ano Mera, and catch a break from sightseeing with some espresso and snacks in Odos Araxame. It's one of those classic tavernas you can see all over Greece, so you will definitely leave with some new photos in your gallery and a full stomach as well.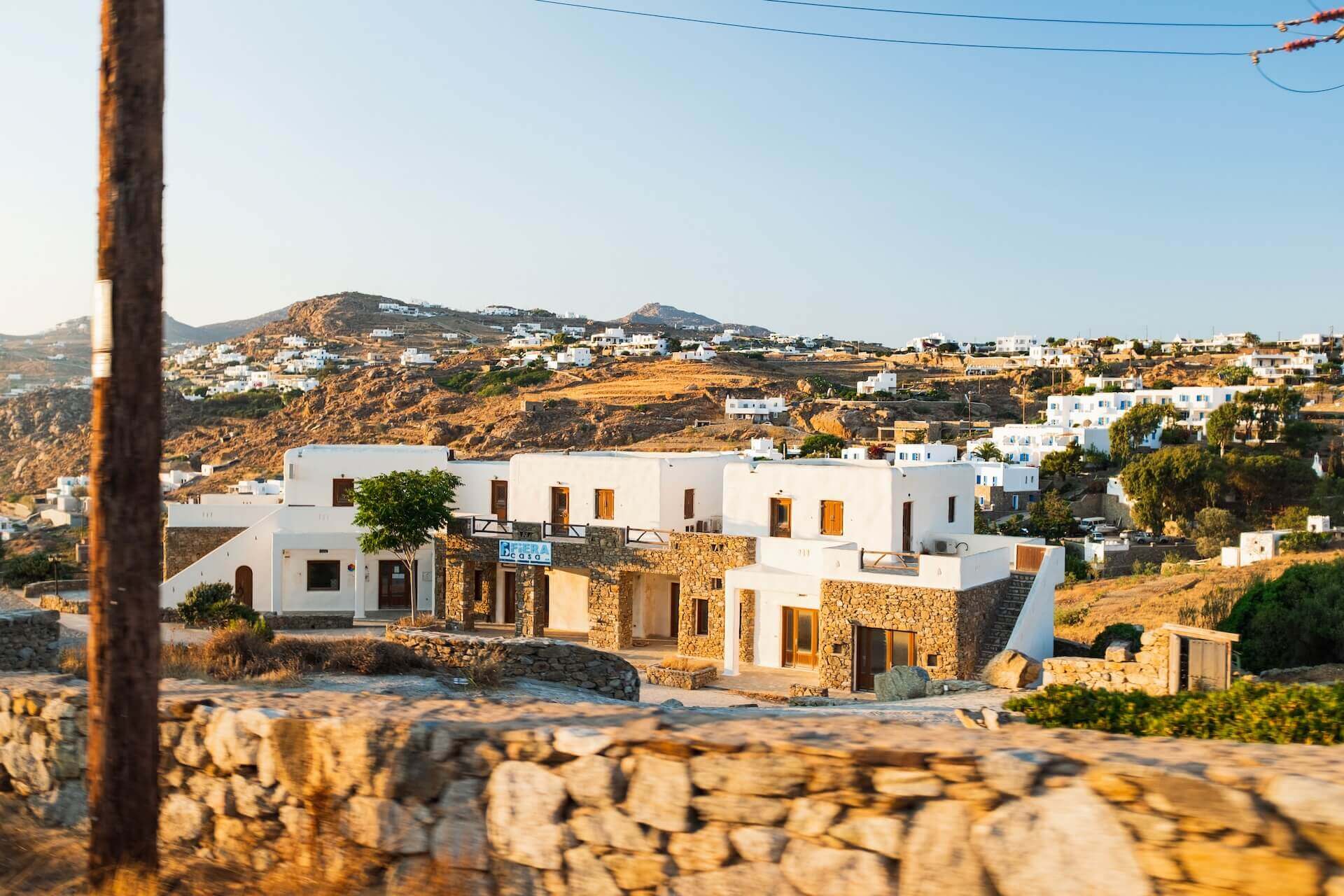 Contact The Ace VIP and Enjoy Your Freddo by the Pool of One of Our Mykonos Villas for Rental – It's the Ideal Set for a Pic
Sure, you'll have a fun time checking out all the different cafes and restaurants this place has to offer, but the best way to sip your espresso is definitely by the pool of one of our Mykonos luxury villas. So, with a little bit of help from the concierge VIP services Mykonos provides, you will be able to stay at some of the most beautiful villas Mykonos can offer. It's time to get that caffeine boost!