If Mykonos is your dream vacation, you will surely research the best spots on the island and the amenities you can expect to see there. Still, there's one essential thing to answer before booking your stay on Mykonos – when to visit? Which time of the year is the most exciting for tourists?
Whenever you come here, you will surely enjoy this Greek adventure – and how can you not? This is a cosmopolitan destination, beloved by the rich and famous. It has a worldwide reputation as one of the top travel destinations on the planet. If you ask a few people – when is the best time to visit Mykonos, Greece? – the chances are that you will get a few different answers. Truth be told, Greek beaches are wonderful during any season, but some months are still better than others. So, let's see when to visit Mykonos in order to get the most out of every day you spend here.
Mykonos – When to Visit This Heavenly Island During the Year?
When this island is mentioned, everybody's first thought is probably a never-ending party, but Mykonos is more than its wild nightlife. Great weather, warm sea, pleasant summer wind, and a beautiful principal town known as Chora (which means "town" in Greek) are some of the many beautiful experiences that await here.
How to Know When It Is Best to Travel to Mykonos, Greece?
The Island of the Wind, as it's commonly called, is a heaven on Earth for party lovers and those who enjoy a hot, sandy beach with a wonderful view – which basically means that any human would be lucky to spend their vacation here. Of course, whether you can do that or not mostly depends on your financial situation, but also on what you want the holiday to be like. So, the most important question is this – what do you want to do during the holiday? The answer to that will determine the month that will suit you best.
High Travel Season – The Best Parties and Hot Weather
If you consider yourself a party enthusiast, the decision is simple – undoubtedly, the time of the year for you is high season (July to early September). The parties start in late June and end in the middle of September. The wildest ones are at the end of July and during August. The island will be crowded, but never so much that it is unenjoyable. Naturally, this is the part of the summer when the hotels have the highest prices, so you might want to prepare your budget for a trip to Greece in the middle of the summer.
Summer Nightlife at Its Best – Nothing Can Top This Experience
There is a reason why Hollywood celebrities and jet-setters from all over the world come here regularly. Although Greece has many islands, none are as great for partying as this beautiful part of the Cycladic islands. Beach bars will show you how amazing a day party can be, and clubs in the town will be experiences you'll never forget. Additionally, it's important to mention that this is one of the top travel destinations for the queer community – here, you will find some of the most famous gay bars in the world.
Shoulder Season – Top Choice for Enjoying Beaches and Sea
May, June, September, and early October are the months of the so-called shoulder season, and they are perfect for anyone who prefers a slower travel experience – beaches rather than parties. All Cycladic islands, including this one, have lovely beaches and warm, pleasant weather during this part of the year. There are still a lot of tourists, but not as many as during the peak of summer.
Accommodation prices will be lower – however, the prices for food and drinks will likely be the same. If you decide to come in May or October, keep in mind that not everything will be open. Still, you'll surely find amazing Greek taverns with outstanding traditional Greek cuisine. For those who prefer swimming rather than lying on the beach, it's important to know that the sea might be a bit cold in October and May, but still quite enjoyable.
A Perfect Time for Greek Island Hopping
Exploring multiple islands in Greece during one holiday sounds like a dream, but can also be a reality thanks to the well-organized ferry transport. Many islands are close by, including Santorini, Paros, and Naxos. Even Athens isn't that far away, and you might be able to add it to your schedule to get the whole experience of Greece.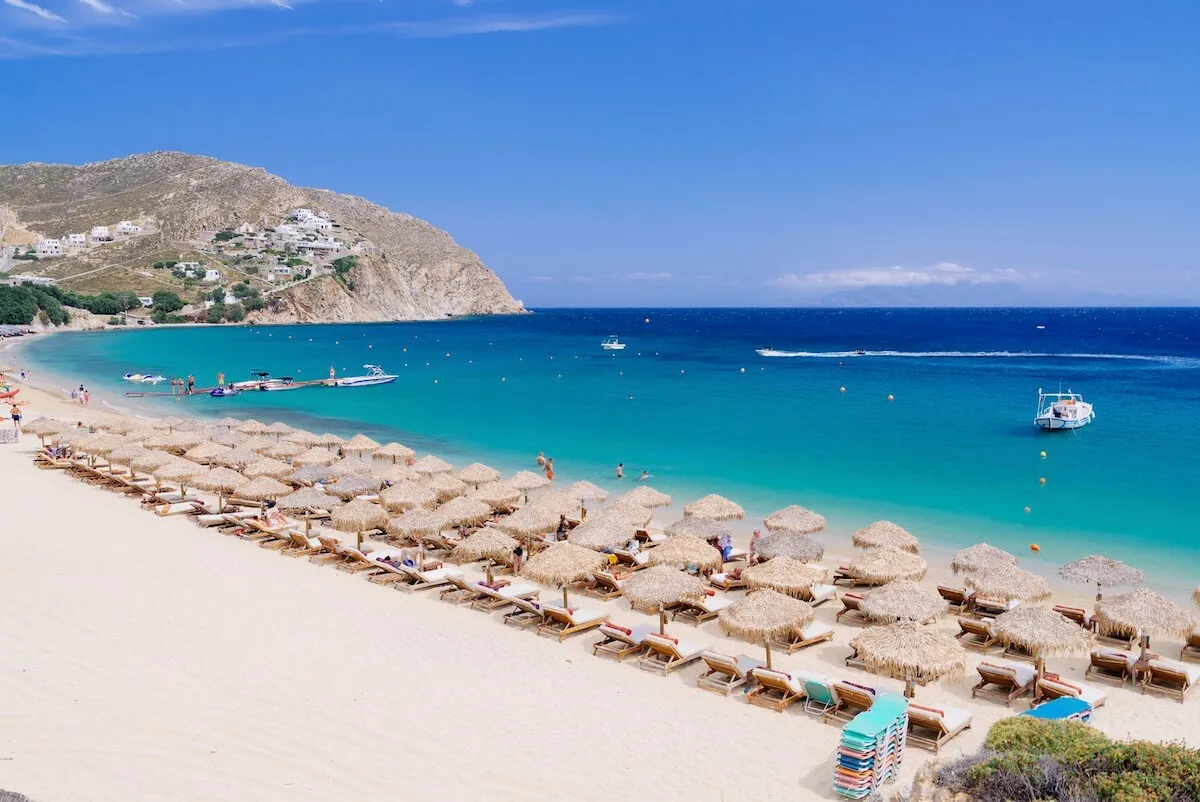 Low Season – Not the Most Eventful Time to Come Here
The winter – from late October to April – isn't such a great time to come to Greece, or at least, to the islands, because the cold weather and rain might ruin your pleasure. Once most of the tourists leave after September ends, the place becomes quiet. Not many locals live here, only about ten thousand, and most of them are in the town. However, you'll be able to find a few hotels that are still open for tourists in the winter.
If You Do Come During This Period, There Are Still Things to Enjoy
Even though the weather won't be suitable for swimming and sunbathing, there are still things that can make your stay lovely. A walk down the beach or around the town is always beautiful, no matter the cold. Soak in the beauty of one of the most beautiful countries in the world, and when you get tired, enjoy lunch in one of the traditional restaurants that are open during this part of the year. Although you might not be able to catch a ferry to Santorini or Naxos, there should be at least one ferry per day for Athens.
Whenever You Decide to Come, Know That We Are Here for You – Finding a Beautiful Mykonos Villa Is Simple With Us
When you have a clear sea, soft sand, and lovely landscape, all you need to add to the mix is luxurious accommodation, and you'll have the best holiday of your life. Finding luxury Mykonos villas is the easiest part, and that's where we step in. Our diverse offer of private villas in Mykonos ensures that everybody finds precisely what they need and feel happy and relaxed during their stay. If you want to rent a car to travel around more swiftly, we offer that as well. But why not think even bigger – a is also an option, so why not treat yourself? After all, Mykonos is all about luxury.