Is the hype surrounding The Island of the Winds just a marketing stunt, or is Mykonos popular simply for its amazing beauty, hospitable people, and mesmerizing attractions? Find the answer to this polarizing question in our blog. The charm of this destination is definitely deserved, and you will see that the moment you settle in one of the Mykonos luxury villas and start exploring the destination. But first, we'll tell you about the main reasons why this destination remains a beautiful place to visit.
#1 The Island Has Some of the Most Beautiful Beaches
The Island of the Winds is considered a small island in the Cyclades complex, but that doesn't mean that it has a shortage of gorgeous beaches. Actually, there are over 30 sandy beaches where tourists spend time sunbathing all day, swimming in the translucent water, and partying as well. Some beaches are more appropriate for families, some for party animals, but there are also the ones that are off the beaten track where locals and travelers go to enjoy some peace and quiet.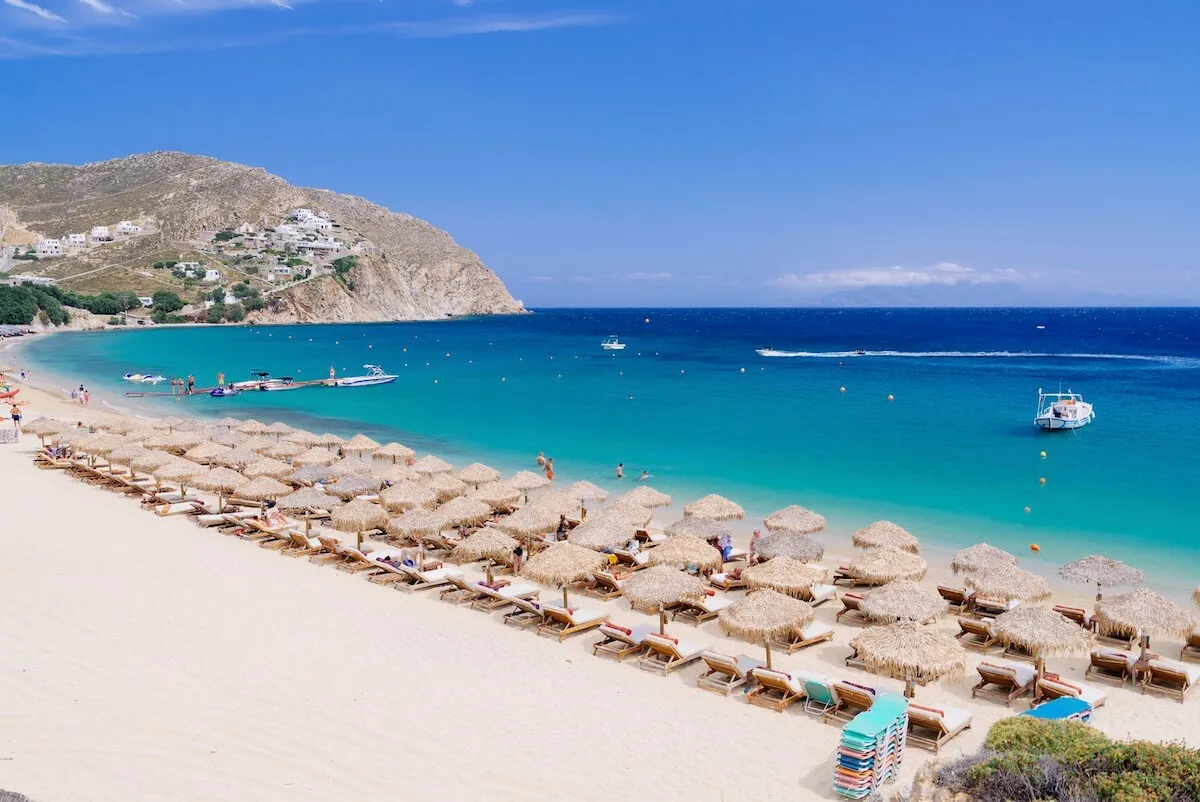 What Are the Island's Best Party Beaches?
The island's vibrant party scene attracts thousands of tourists every year. The place where the best parties are held is the beaches. Some of the best for avid party-goers are:
The parties last until sunrise, and sometimes, you might need a bit of rest just to recuperate from the previous night. You can relax on some of the beaches, such as Agios Sostis, Agrari, Fragias, and Loulos, or rent a private yacht rental in Mykonos and sunbathe in the middle of the Aegean Sea.
#2 The Stunning Main Town, Chora, Offers Shopping and Sightseeing
The traditional white and blue Greek houses on the island are recognizable all over the world. Chora is known exactly for this style of architecture, where tourists come to enjoy their vacation strolling along the narrow streets and visiting designer boutiques and small local shops.
But, the popularity of the town lies in one aspect, and that is – its Instagrammable background. The majority of pics you see from this destination are taken in the center of Chora. The most famous street is called Matogianni street, and it's one of the most beautiful streets in the world.
#3 The Rich Cultural Heritage Is Reflected in the Amazing Mykonian Attractions
Exploring The Island of the Winds in Greece is an adventure. If you'd like to see a picturesque neighborhood with vibrant and colorful buildings, you need to go to Little Venice. Enjoy a drink or meal while watching the breathtaking Mykonian sunset.
Right next to Little Venice, you'll find the iconic Mykonian windmills, which represent the island's rich history. Then if you want to get to know beautiful monasteries, local taverns, and streets during your stay, don't forget to visit the traditional village of Ano Mera.
Finally, at the Archeological Museum of Mykonos, you can see a collection of ancient artifacts that reveal a bit more about this destination.
#4 Tourists Can Visit Other Cyclades Such as Delos, Santorini, and Paros for a Day
While vacationing in some of Mykonos villas for rental, you will have an opportunity to go on day trips to other Cyclades. This is a great way to explore Greece a bit more intimately. You can request from your Mykonos concierge a yacht rental and go to islands such as Paros, Santorini, Delos, Milos, and Tinos.
When you travel to islands like Santorini and Paros, you can enjoy a more relaxed atmosphere and great seaside with crystal clear waters while on islands like Delos, Tinos, and Milos, you can go sightseeing and visit ancient ruins and monasteries.
During Day Trips, Travelers Like to Explore Popular Diving Spots off the Coast of Mykonos and Delos Islands
Several diving spots in Delos and Mykonos would make a trip to other Cyclades even better. Scuba diving in clear waters and seeing diverse marine life in the Aegean Sea should definitely be on anyone's bucket list. Off the coast of Mykonos, you can visit the Paradise reef, Agios Ioannis reef, and Tragonisi island, and off the coast of Delos, you can dive at Apollo Reef and Ancient Harbor.
#5 Is Mykonos Popular? Yes, Especially for Its Cuisine – Try Delicious Greek Dishes in the Best Mykonian Restaurants
The last reason behind the island's intense popularity is the Greek cuisine. There are numerous restaurants and tavernas scattered throughout the destination offering delicious seafood, tasty Greek dishes, and international cuisine as well. Any type of craving can be satisfied here, and this includes exotic foods as well.
We recommend that tourists primarily dine in traditional Greek restaurants for the most authentic experience of the destination. The best traditional Greek restaurants are Kiki's Taverna, Nikolas Taverna, Fokos Taverna, Joanna's Nikos Place, and Interni. Before you dine in some of them, research a bit about how you should tip the staff since the tipping culture in Greece is not the same as in the West.
Can't Wait to Travel to Greece and Vacation in Mykonos? Contact The Ace VIP Right Away
Why is Mykonos so popular? The ideal way to find out whether the hype around this destination in Greece is justified is to rent one of the luxury villas in Mykonos and travel here this summer. The Ace Vip offers tourists Mykonos villas for rent on the entire destination, and you can pick a luxury Mykonos villa rental you'd enjoy the most.
Not only does our team rent Mykonos villas, but we offer concierge VIP services in Mykonos, jet rental services, Mykonos yacht rental services, and car rental services. However, it's time to prepare for this adventure by visiting our website, browsing through Greek villas in Mykonos, and booking one. We guarantee you'd find just what you like.