If you are planning a fantastic summer vacation and want to spend it at one of the most beautiful islands in Greece, you're probably wondering which side of Mykonos is best for staying. There isn't just one simple answer to this question because what is best for one is certainly not the best for somebody else – that is why you need to consider your personal preferences before making any final decisions, and we'll help you with that.
Deciding What Is the Best Side of Mykonos for You Depends on Various Things
Although it is known as a popular party island, this gorgeous place among the Cyclades has a lot more to offer than just nightclubs and fancy beach bars. It has a rich historical background, plenty of nice restaurants and traditional Greek tavernas, good shopping places, museums, and marvelous beaches. Depending on the time of your visit, personal preferences, and how you would want your vacation to be like, you can choose to stay near some of the most popular spots.
For example, you can choose to be near the main town and explore its picturesque streets and hidden corners all day long. You can also stay near popular clubs if you plan to party every day and night. The place of your stay also depends on the fact if you're renting a vehicle or plan to drive around by bus when you want to visit some specific area on the island. Renting a car is recommended for those planning an active vacation and staying away from Chora and popular beaches.
Mykonos Main Town – Chora Is One of the Best Places for Staying on This Island
If you're interested in gorgeous architecture, traditional white-washed houses, and picturesque streets, staying in Mykonos main town, Chora on the west side of the island is an ideal location for you. This area is also full of tourists all summer long, so it's interesting if you want to meet people and be in the center of the action.
This Can Be a Great Place for Those Who Want an Active Vacation and to Explore the Island
The main town is the place where you can see some of the most popular attractions:
Little Venice and Mykonos Windmills,
Paraportiani Church,
Historical Museum and Rarity Gallery.
If you're interested in island hopping tours, this is also a good starting point because the main town port is near. You can plan a day trip to Delos – a popular historical site or even Santorini – another beautiful Mediterranean island that's just about a three-hour ride away.
Paradise Beach Is a Great Choice if You Want to Stay Close to Vivid Nightlife Entertainment
Located in the southwest of the island, Paradise Beach and its surroundings is the place where all the fun is happening. If you want to experience Mykonos at its finest and be a part of its legendary nightlife and world-known parties, this is where you want to stay. Just a short walk and you'll be in some of the most popular beach bars or clubs – from day to night, the party here doesn't stop.
Some of the Best Clubs and Luxury Beach Bars on Mykonos, Greece, Are Right Here
In case you're staying here, you shouldn't miss Cavo Paradiso or The Paradise Beach Club – currently ranked #17 in the world as the best clubs. This is also the largest luxury club on the island, and it can fit up to 5,000 people as it has several outdoor terraces with breathtaking views.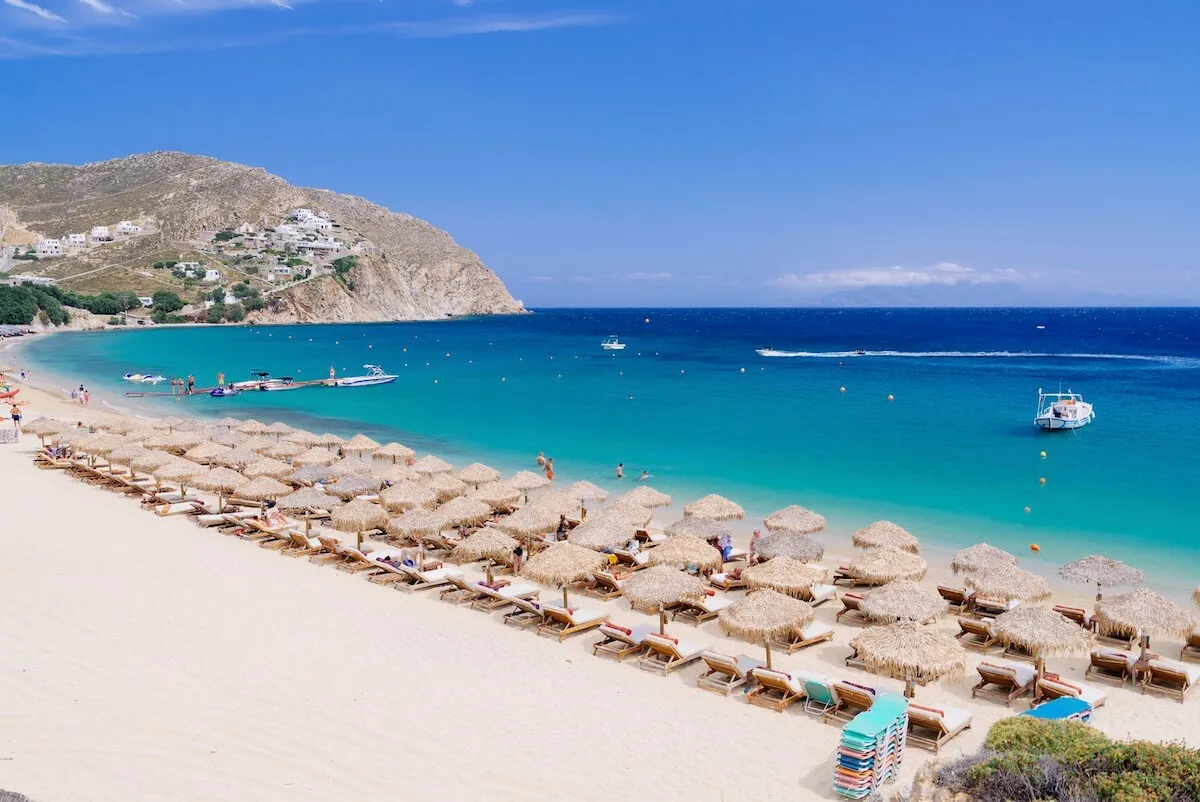 Agios Stefanos Offers Budget-Friendly Accommodation and a Good Beach
Agios Stefanos is located near Tourlos, which is the island's new harbor, and it's about 3,5km north of the main town. This attractive sandy beach is one of the hotspots for tourists looking for affordable vacation rentals. Here you can find peaceful surroundings, a clear sea, sandy beaches, and accommodation at a budget-friendly price.
Apart From Agios Stefanos, Elia Is Another Great Beach With Good Places to Stay
Elia is one of the longest sandy beaches on the island, and it's located in the south, about 10km away from the main town. With its beautiful ambiance, many tavernas and restaurants overlooking the sea and serving great traditional Greek food, and a lot of facilities for water sports, this location is the supreme choice for those who want to have adventures on the beach all day long. Elia beach also has a quiet side that's good for relaxation after an active day, and it's popular among gay couples and nudists as well.
Which Side of Mykonos Is the Best? The One Where Your Luxury Mykonos Villa Is
As you can see, most of our suggestions are located on the west and south sides of the island, but wherever you rent one of the luxury Mykonos villas, you can easily get anywhere because it is all very close. Pick one of our private villas in Mykonos located in-between all of the previously mentioned places and rent a car, so you can easily explore everything Mykonos has to offer.