The Island of the Winds, as it's popularly called, has been one of the top Greek destinations for tourists from all over the world. But why is that? What is Mykonos best known for? If you're wondering what to do in Mykonos to get the whole experience of the island, you've come to the right place – let's see what the top 7 things you should have on your travel itinerary are.
What to Do in Mykonos Island, Greece – Things You Shouldn't Miss on Your Vacation
What are the most famous tourist attractions in Mykonos? If you want to visit all the spots that make the island a magnet for tourists, you're going to need more than a few days. There are so many beautiful sights you'll like, but we'll share the top 7 things you should check out first. Trust us, this will be one of the best vacations of your life – and how can it not? You're in Greece!
#1 Explore a Beach or Two – Every Single One Is Gorgeous
What is there to do in Mykonos during the day? The answer is simple – enjoy the hot Mediterranean weather under an umbrella on a beach. No matter which one you choose, you won't make a mistake, as they are all sandy and clean, with excellent beach bars. The water is perfect for swimming, and the light blue color will make you want to look at the horizon the entire time you're there.
Beaches Are One of the Best Things in Mykonos
One of the most famous beaches is probably Paradise Beach, a popular spot for those who enjoy partying in beach clubs during the whole day – nothing describes Mykonos more than that sight. Other beautiful beaches to visit include Platis Gialos, Elia, Paraga, Psarou, Ornos, Super Paradise, Kalafatis, and Agios Ioannis.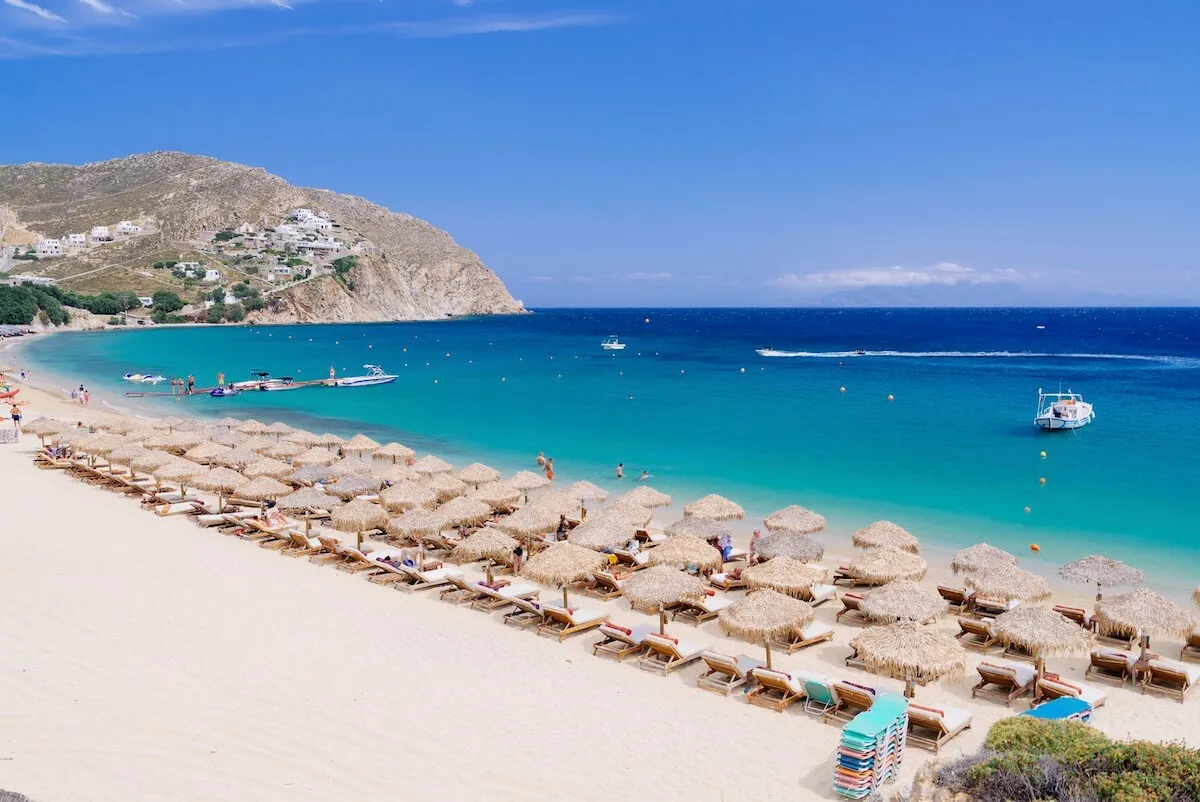 #2 Walk Through the Streets of Chora and Visit the Archeological Museum of Mykonos
Chora is the principal town of Mykonos, and it's the most beautiful little town you'll see – the narrow streets surrounded by Cycladic architecture, full of people in the high season, will make a great impression. Aside from excellent restaurants in the town and beautiful, small Orthodox churches, don't forget to add shopping in Chora to your to-do list.
Visiting an Archeological museum is also one of the better ideas for spending time in Chora. You should set aside at least half a day for a tour around the town – it's an excellent place for long walks and a break from the hot sun.
#3 Visit Little Venice, the Windmills, and Armenistis Lighthouse
After you've explored the center of Chora, it's time to check out some of the best tourist attractions on the west coast – starting from Little Venice. It is only a few minutes from Chora, and it is an area with characteristic Cycladic houses on the coast, a perfect spot for experiencing the Mediterranean sunset.
Five Beautiful Windmills on the Coast of Mykonos
If you head south from Little Venice and walk for about five minutes, you'll run into famous windmills. They aren't in function today but are a signature of Chora and make up for a great spot to take pictures or simply look at the beauty surrounding you. And lastly, if you walk about 20 minutes north from the windmills, you will arrive at the amazing site – Armenistis Lighthouse. It stands on the cliff and has one of the most beautiful views on the island.
#4 Experience Mykonos Nightlife
One of the top reasons people travel to Mykonos is undoubtedly its nightlife – amongst all Greek islands, it has the most fabulous party scene, especially during high season (July and August). Besides partying on beaches the whole day, Chora has many clubs that provide a fantastic experience. Mykonos is especially famous for being one of the most queer-friendly Greek islands, so there are many gay bars here as well.
#5 Check Out the Beautiful Panagia Paraportiani Church
Only a few minutes from the center of Chora lies the beautiful church Panagia Paraportiani. If you decide to see only one of Chora's many churches, this is the one you should choose. It consists of five church buildings and has a breathtaking view of the sea. Paraportiani means "standing next to the entrance door" – the church used to stand next to the main castle entrance.
#6 Take a Boat Ride to Delos
Tours for Delos, one of the Cycladic islands, depart daily from the old port in Chora. The boat ride will cost you 20 euros (10 for children under 12). Delos is one of Greece's most important archeological sites, so it is an unavoidable part of a Mykonos vacation for all history lovers. It is uninhabited and offers visitors an amazing look at ancient history. According to mythology, it was the birthplace of Apollo and Artemis.
#7 Book a Great Villa That Will Make Your Mykonos Experience Even Better
Now that you know what to see in Mykonos, all that's left to do is find the perfect luxury villa you'll share with friends on this memorable vacation. We can offer you the most beautiful villas on the island and ensure that your stay goes without a glitch – contact us, and we'll help you find the perfect accommodation. Additionally, we offer a car rental service – if you plan on getting around the island, this would be excellent for you. Those who prefer more luxurious means of transport should consider renting a yacht – what better way to see the whole island than sail around it?