Are you a newbie on the island looking for the best bars in Mykonos? Despite being a small island, Mykonos has an outstanding offer when it comes to bars and places where you can really enjoy yourself and meet many interesting people – including hundreds of celebrities that come here each summer. So, here are the places you should definitely check out.
Where Are the Best Bars Located in Mykonos?
Are you ready for the best summer of your life? If you're heading to Mykonos, buckle up because this is going to be one hell of a ride. This exciting island is a true paradise for clubbers and party people. Everyone who wants to experience a wild and fun summer comes here because this is the cradle of nightlife and exciting parties.
Where are they located? Almost around every corner, at some of the most beautiful beaches and cliffs with breathtaking sunsets. Some of them are located in the main town where the scenery is also very idyllic. No matter where you find yourself, you'll feel like you're in a different dimension, and that's what this place is all about.
#1 Scorpios Mykonos Is One of the Most Legendary Spots
Located on the shore of beautiful Paraga Beach, near the main town, Scorpios Mykonos is, without any doubt, one of the most popular spots, and you must visit it if you get a chance to travel here. It built its name through many years of hosting fabulous and extravagant parties and various kinds of events for high-profile guests. Getting here shouldn't take you a lot of time – you can take a taxi from Chora town and be here in 10 minutes.
This Place Has Its Unique Vibe, so Make Sure You Check It Out if You Travel Here
This magical bar is built in traditional Greek style, imitating an ancient agora, which gives the whole place a spiritual vibe making it different from anything else on the island. Considering the fact that everyone wants to be here, you should definitely consider booking cabanas in advance – this will cost you between 100 and 200 euros. Food and cocktails here are more than delicious, so make sure you try some of the specialties while admiring the enchanting beach view.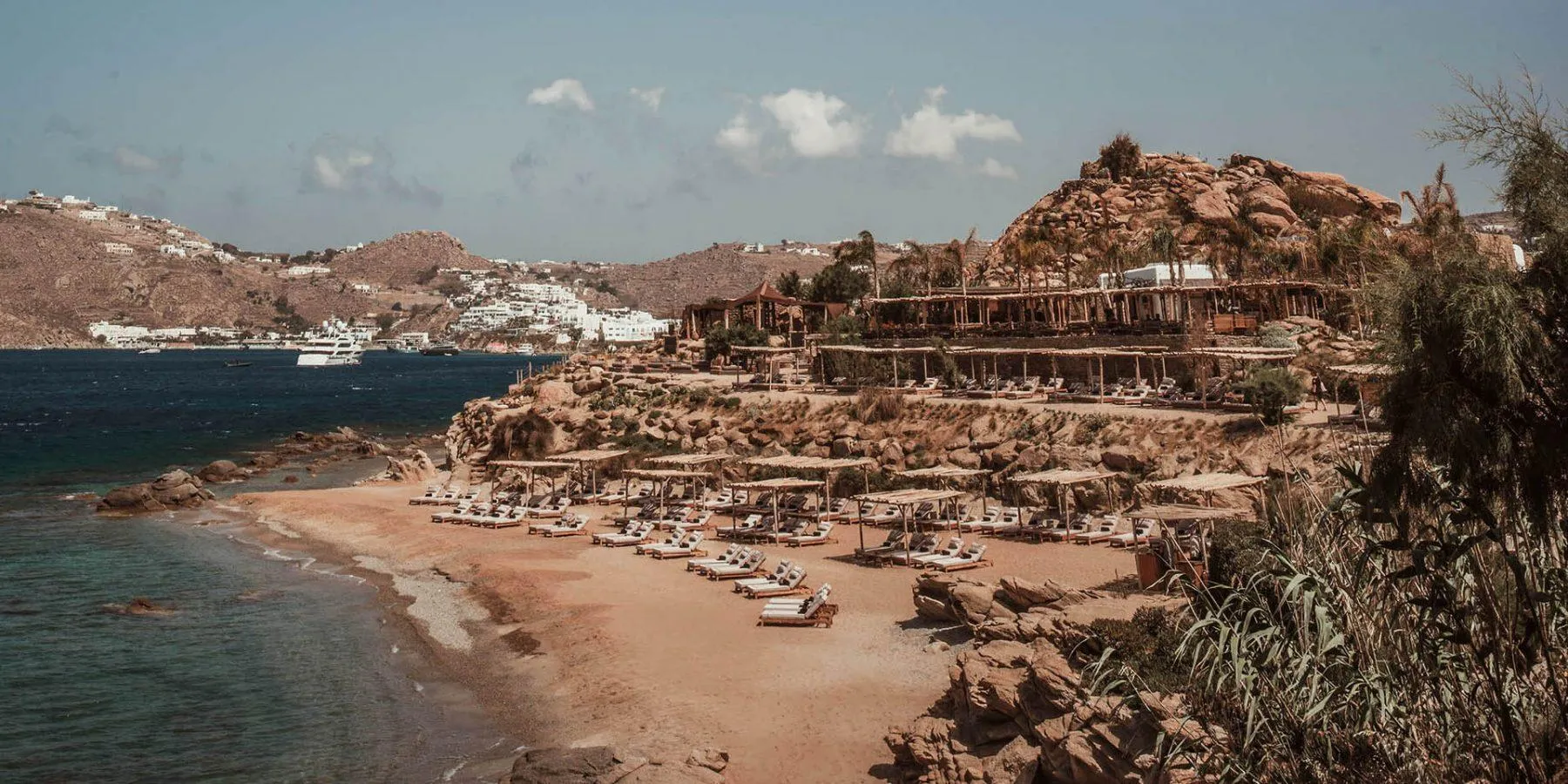 #2 Principote Is Clear Definition of Luxurious Nightlife
What should your next station be? You can continue with Principote, and you definitely won't end up disappointed. This incredible bar located on Panormos Beach attracts the same high-profile guests as Scorpios, so prepare yourself for high prices and impeccable luxury.
This glamorous spot is everything you want, expect and need to experience while you're on Mykonos. Outstanding service will amaze you – you can even get a massage while chilling on a comfortable sunbed and drinking your favorite summer cocktails. As the sun goes down and the atmosphere heats up, this relaxing beach bar turns into one of the best party spots on the island.
#3 Jackie O' Bar Is Another Hot Spot You Don't Want to Miss
Ready to evidence some old Hollywood, black and white glamor? All this can be found at the extravagant Jackie O', which is known for its iconic ambiance and outstanding entertainment. From the glamorously set sunbeds to delicious seafood specialties, quality music, chic cocktails, and fun drag shows – this location offers everything you need to experience the best of Myconian nightlife seasoned with fine drinks and outstanding views.
This Bar Is Located Close to Mykonos Town
Jackie O' is located at the Super Paradise Beach, which is one of the most popular beaches on the island. You can easily get here from the main town – there are frequent buses, but you can ensure you have a glamorous entrance by booking a private transfer.
#4 Caprice of Mykonos in Little Venice Is One of the Best Spots for Watching a Sunset on the Island
This unique cosmopolitan place is built in classic Cycladic style, and it represents the authenticity of the modern era combined with traditional ambiance. Located in Little Venice, Caprice is praised by the international press as one of the best bars in the world. Many refer to this place as the mecca for party lovers on Mykonos. It is also known as one of the best sunset bars in Mykonos – the colors you can see during the sunset will leave you breathless.
Book Yourself a Luxury Villa Next to These Popular Spots – Best Bars in Mykonos Are Waiting for You
Mykonos' best bars won't be hard to find, but how to have enough energy to visit them all? Quality sleep during the night is one of the main hacks, and there is no better place to relax and have a good rest than in one of the luxury private villas in Mykonos. You'll have plenty of space and comfort to recharge and prepare yourself for many more fun nightlife activities or even throw an after-party at your Mykonos villa. Contact The Ace VIP to see all the amazing Mykonos villas we have to offer and pick the one for your stay.