When planning a summer vacation, one of the most important things you have to figure out is where you are going to stay. A Mykonos accommodation guide is more than necessary when planning a trip to this island since options are numerous. Today's article will help you figure out some of the most important things to keep in mind when preparing for the holiday of your dreams in the Aegean Sea.
Mykonos Accommodation Guide – Villas and Hotels on This Island Are Superb
If you are currently planning a vacation on Mykonos, you probably already know that this island has a great number of accommodation options to choose from. This island is home to some of the world's most renowned luxury hotels and resorts.
Most people have trouble choosing the perfect place to stay since that's one of the most important things, and everyone wants their holiday to be picture-perfect. When choosing which accommodation to book for your holiday, you might want to consider asking yourself some important questions and figuring out what you are actually looking for.
Things to Think About When Choosing the Perfect Accommodation
Whether your accommodation is going to be a dream come true or not depends on your expectations and possibilities. You might want to start by figuring out your budget, how much time you have to spend on this vacation, and when you are planning to travel to this island. Think about the type of holiday you are looking to have, and which accommodation will be the most suitable for it.
Hotels are a great option for people who are traveling on a budget and just need a place where they can sleep because they won't be spending too much time inside anyway when there are so many beautiful beaches to explore. On the other hand, Mykonos villas are a better solution for people who want to be flexible on their vacation and plan their travel itinerary freely. Both hotels and villas are great, but they are also very different. In order to choose the best option, you should inform yourself about what is being offered to you.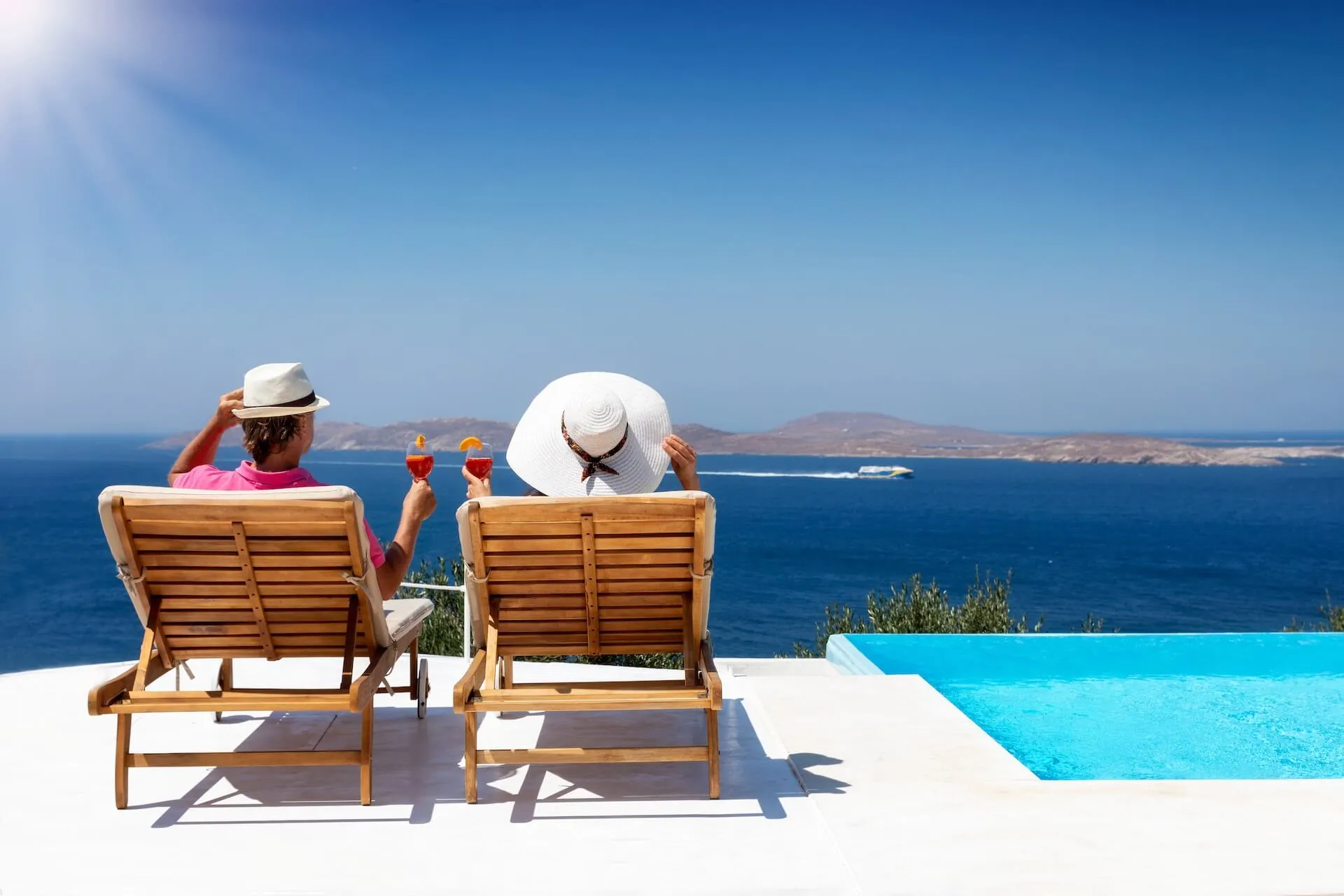 Is Booking a Mykonos Villa More Convenient Than Staying in a Hotel?
With all that is said above, you might have come to the idea that lots of factors can influence your choice of accommodation for your stay. The main choice you have to make for your vacation is whether you are going to stay at some of the best hotels or perhaps book some of the luxury Mykonos villas for rental close to the sea.
Making this decision is pretty hard because both hotels and villas on this island are very good and offer a great level of comfort and luxury that can fulfill the requests of even the most demanding guests. However, staying in a private villa is something you can't experience everywhere, and in a paradise location like this, it could be the most convenient option for everyone who's looking for privacy and comfort on their vacation.
What Is the Difference Between Staying in One of the Private Villas in Mykonos and in a Hotel?
Obviously, both villas and hotels sound luxurious and promising, but what are the main differences between staying in a hotel and a private villa? Staying in a hotel is a great option, but it does tend to make your holiday dull and too ordinary. On the other hand, luxury villas in Mykonos offer a one-of-a-kind experience that the majority find unmatchable.
Having the entire house just for yourself and your partner, friends, or family will give you a unique sense of hedonism and luxury, which you will hardly find anywhere else. Plus, these villas have a unique touch of Cycladic architecture and Greek tradition, so your experience will be authentic and unforgettable.
During the summer season, hotels are often too crowded, loud, and busy. This is a popular destination, so that is not a surprise, but it can be a bit annoying if you want to relax on your vacation and don't have a feeling like you're in a party hotel all the time.
If You Prefer Maximum Privacy and Freedom, You Might Want to Avoid Hotels
During the season's peak, every hotel is full, and it can get pretty loud and noisy. Finding a free sunbed next to the pool or a free table for breakfast might turn out to be a mission impossible. After a night out, you probably won't be able to get up early enough anyway, so that's not the most suitable option.
This is why staying in a villa with a private pool is much better than staying in a hotel since you will be able to enjoy the space much more. You do not have to worry about getting up early for breakfast, and you can plan your meals and summer activities however you wish.
No Need to Worry About Services When Staying in a Private Villa
You can get the same services in private villas as in a five-star hotel, and you will be taken care of whenever you need assistance. You will be offered convenient daily cleaning services which will not disturb you during your stay.
You will be provided with clean towels and bedding whenever you need them, and the pool will be taken care of daily. All of your requests can be fulfilled whether you need a private chef to prepare your dinner if you don't want to eat in crowded restaurants, or if you wish to rent a yacht and go on an exciting sunset cruise.
5 Tips for Choosing the Best Villa for a Unique Stay During Your Summer Vacation
This island has a great selection of private luxury villas in more than 32 different areas. When thinking about what your perfect vacation in Greece will look like, consider what kind of villa would suit your needs. We will undoubtedly be able to fit all your requirements, no matter how specific and unique they are.
Because there are so many different villas for you to choose from, the chances are small that you won't find one that will definitely match all your expectations perfectly. Some questions that might help you with making the best decision are:
Set the Date and Figure Out Which Villas Will Be Available to You
Once you figure out what type of villa you want for your vacation, decide when you are going to travel to this island. Before booking a villa, it's important to determine the exact duration of your stay. We suggest you book a private villa as early as possible, so you can get a better deal and have more options. Plus, when booking earlier, you might also be able to save on your flight tickets and other travel expenses.
Whether It's Close to the Town or the Beach, a Private Villa ls a Perfect Choice for a Luxurious Holiday
All of the villas are luxurious examples of Greek architecture. They combine traditional Cycladic style with sophisticated contemporary design and are equipped with all the facilities you might need for a perfect holiday experience. All these villas have stunning interiors, magnificent views of the Aegean Sea, gorgeous private pools, and large outdoor areas perfect for hanging out or eating outside.
From the smaller villas to bigger ones, which can fit up to 70 guests – they are all unique properties that will undoubtedly leave you breathless. In the next few paragraphs, we will share some of the most popular Mykonos luxury villas.
Villa Kaeli II Is the Best Villa Close to Elia Beach
If you are looking for a villa with the most stunning view of the Aegean Sea and in the proximity of Elia Beach, Kaeli II might be the perfect choice for you. This villa offers its guests the most magnificent indoor and outdoor space, and it can accommodate up to 14 people.
With six rooms, seven bathrooms, and a stunning infinity pool in the gorgeous green area, this villa is an everybody's dream come true. The villa will be your perfect Greek oasis close to the beach.
Villa Parthenia Is a Little Greek Paradise in the Heart of Chora
If you wish to book a villa in the center of Chora, so you can be close to all the famous attractions the main town has to offer – Villa Parthenia could be the perfect place for you.
It can accommodate eight guests in 4 spacious rooms and has a stunning whitewashed exterior and interior. The panoramic view over the Aegean Sea and town center and a gorgeous private pool will sweep you off your feet.
Looking for a Peaceful Getaway Paradise? Then Villa Jasmina Is the Perfect Choice for You
Villa Jasmina is a perfect estate for a peaceful and relaxing holiday, as it's located on the island's northern side, away from all the hustle and bustle. It's surrounded by gorgeous Mediterranean nature, perfect for people who love being in a green environment. However, Chora is only 20 minutes away, so you're not too far from all the happenings.
The villa is kid-friendly, so it's perfect if you plan to bring your children on vacation to Greece. Villa Jasmina has eight bedrooms and can accommodate up to 16 guests. It has a stunning interior and an even more stunning outdoor area with a gorgeous swimming pool.
The Ace VIP Team Will Help You Find the Perfect Accommodation
If you need help choosing one of the best private villas in Mykonos, The Ace VIP team is more than happy to help. We have hundreds of gorgeous luxury villas you can check out, and we can surely find you the one that is perfect for you and your companions. Just give us a call, and our concierge services will be at your service whenever you need some assistance with booking a private yacht or perhaps inviting a private chef to your house. Don't hesitate to contact us so we can start planning your ideal vacation immediately.