This magical destination in Greece has a lot to offer – from pristine beaches and vibrant nightlife to plenty of cultural attractions. You'll realize that as soon as you get here, and you'll probably ask yourself – Is 3 days enough for Mykonos? Should I stay a bit longer? If this short trip is all you've got, let's see how you can make the most of it.
It's Important to Have a Travel Itinerary – Make It Your Trusted Companion During the Trip
When you're working with limited time, it's important to be organized and have a schedule to follow. It might sound like a contradiction – following a schedule while you're on a much-needed vacation. But trust us, having a travel itinerary by your side will make everything much easier, and it will ensure that you get to see all the famous attractions.
Is 3 Days Enough for Mykonos? When You Figure Out the Transport, You Will Be Able to Explore Much More
This island in Greece might be small, measuring just 33 square miles (85.5 square kilometers). But there are a lot of things to do as well as places to visit. Sure, the town center is completely walkable, but don't you also want to check out the beautiful beaches outside of it?
A cheap way to get around is using public transport, and there's also the option of calling a taxi when you need it. But, the most convenient way to get around would be to rent a car from a Mykonos car hire service and explore the island on your own accord.
Get Your Morning Coffee and Head to Chora – You'll Surely End Your First Day With Several Instagram Posts
It's time to rise and shine! You're in one of the most beautiful Greek destinations, so have an early head-start to your first day and tour the cobbled streets of Mykonos town before it gets too crowded. Known as Chora, this area is full of exciting sights, as well as shops and restaurants. Every corner is a perfect Instagram spot, so even though you only have 3 days, you will take so many photos that it will look like you've been here for a week at least.
Experience Some of the Most Beautiful Sights Greece Has to Offer
Walking down the narrow streets of Chora is an experience in itself – the whitewashed houses are decorated with touches of deep blue on their windows and doors. There's plenty of flora, too – you will surely be taken with the intense pink of the bougainvillea flowers. But don't get too distracted by the beauty, and remember to pick up a few souvenirs on the way.
Visit the Famous Windmills for Breathtaking Views
Today, there are several famous windmills on the island, and some of them are right in the heart of the town. There is a famous group of five windmills by the seaside known as Kato Myloi ("Lower Windmills"), but you should check out Boni's Windmill as well. It's the only one that's open to the public, and it's a great place to take in breathtaking views of the town.
Head to the Old Port to Grab a Bite
When you need to catch a break and try some traditional Greek food, the Old Port is a perfect place for that. Here, you can not only choose from the best restaurants on the island, but you will also be able to enjoy some of the best views of the Aegean Sea. Once you're recharged, it's time to continue exploring the streets of Chora and maybe even get some shopping done.
Finish Your First Day With a Beautiful Sunset View in Little Venice
Right across from Kato Myloi, there is a place called Little Venice because the houses are built right above the sea, just like in this famous Italian city. Little Venice is a vibrant part of town, filled with the best bars and restaurants this island has to offer, perfect for ending your first day with a cocktail while watching the sun go down. Check out this video to see the beauty you can expect in this part of town:
Day 2 Travel Itinerary – Perfect for Checking Out Some Beaches
So, you've probably woken up in your hotel room or your Mykonos villa rental, still a bit tired from yesterday. Even if that's not the case and you're still down for an adventure, the second day of your travel itinerary is perfect for the beach. Depending on how you're feeling, you can relax, or you can continue the party at one of the beach clubs here.
Here are some of the best beaches, listed in order of most relaxing to most lively:
Take a Morning Tour to Delos on Your Last Day – You Will Leave the Island Still Completely Fascinated
Sure, it's strange to leave the mainland if your trip is this short, but your travel itinerary is not complete without a guided tour of Delos. So, if you can make it work, hop on the boat that leaves at 10:00 AM and spend a few hours admiring the ancient architecture of Delos and learning about Greek mythology.
If You Can't Make It in Time, Consider Stopping by the Village of Ano Mera
If you're on a bit of a tight schedule and your flight is during the daytime, you might have to skip the Delos tour. But, there is a beautiful old Greek village of Ano Mera situated right at the heart of the island, only a 15-minute drive from the town. It's a perfect way to have an authentic experience of Greece, Ano Mera has a local atmosphere, and its main attraction is the 16th-century Monastery of Panagia Tourliani.
Visit a Few Places You Missed on the First Day Until It's Time to Head Back
If you've got a few more hours to spare, it's the perfect opportunity to visit a few places you might have missed on the first day. There's the Panagia Paraportiani Church, the most famous religious building on this island – and there are hundreds. It's also a good idea to visit museums such as the Archaeological Museum, where you can learn more about classical art. It's a perfect opportunity to see some of the excavated sculptures from Delos if you have to skip the trip.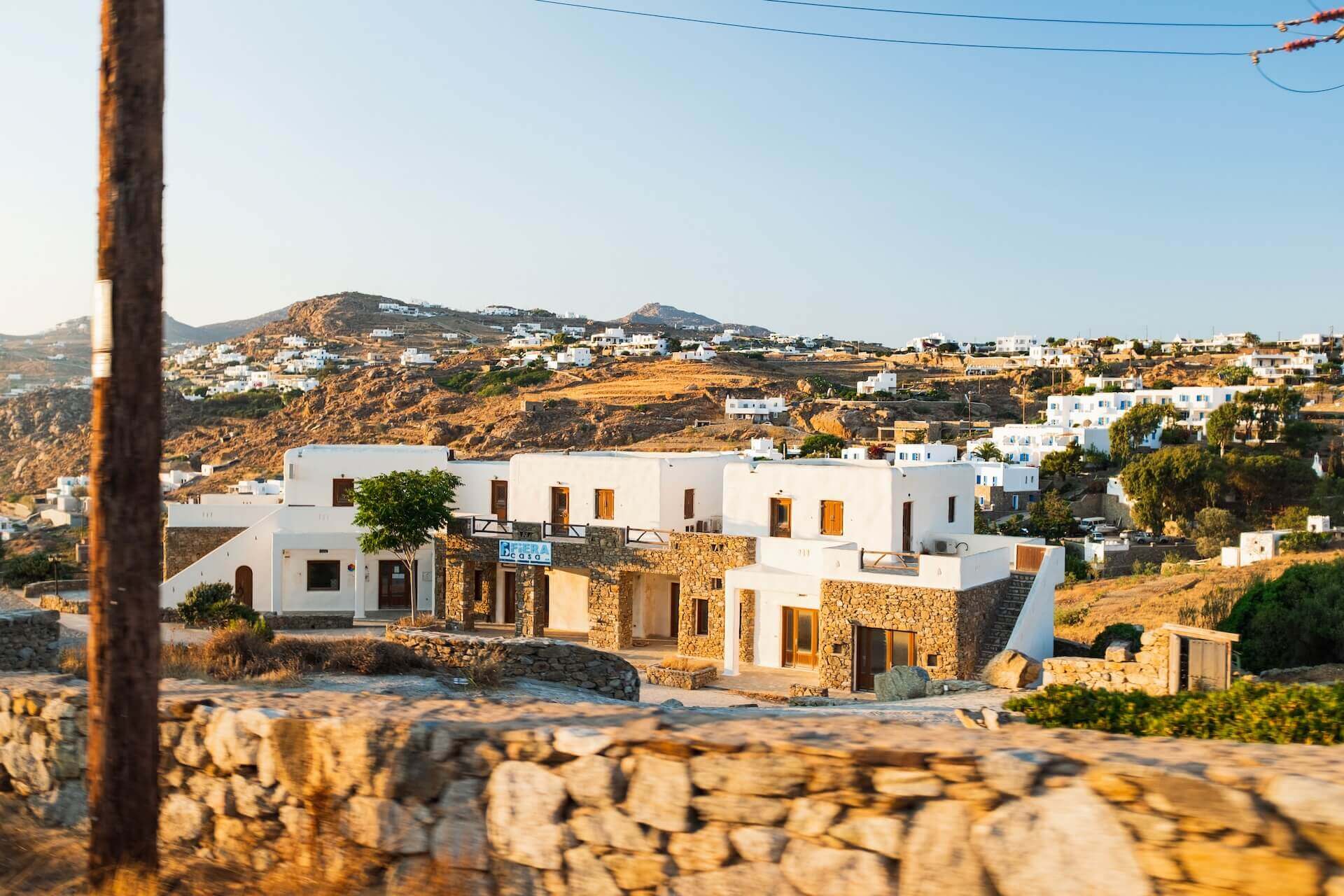 Is 3 Days Enough for Mykonos? It Can Be, but You Will Definitely Want More – The Ace VIP Is Here to Help
The best way to make your short trip an unforgettable time is to stay in one of the private villas in Mykonos. After you've experienced the best luxury villas Mykonos has to offer, as well as the helpful assistance of the concierge VIP services Mykonos provides, you'll be leaving for the island's airport wanting to stay a couple more days.
But that's the best part – you can always come back again and stay in one of the Mykonos villas for rental. You can even experience the wonders of a Mykonos yacht rental and visit all of the things you missed on your first trip. You'll quickly realize there's nothing quite like this magical part of Greece, and it will keep you coming back over and over again.